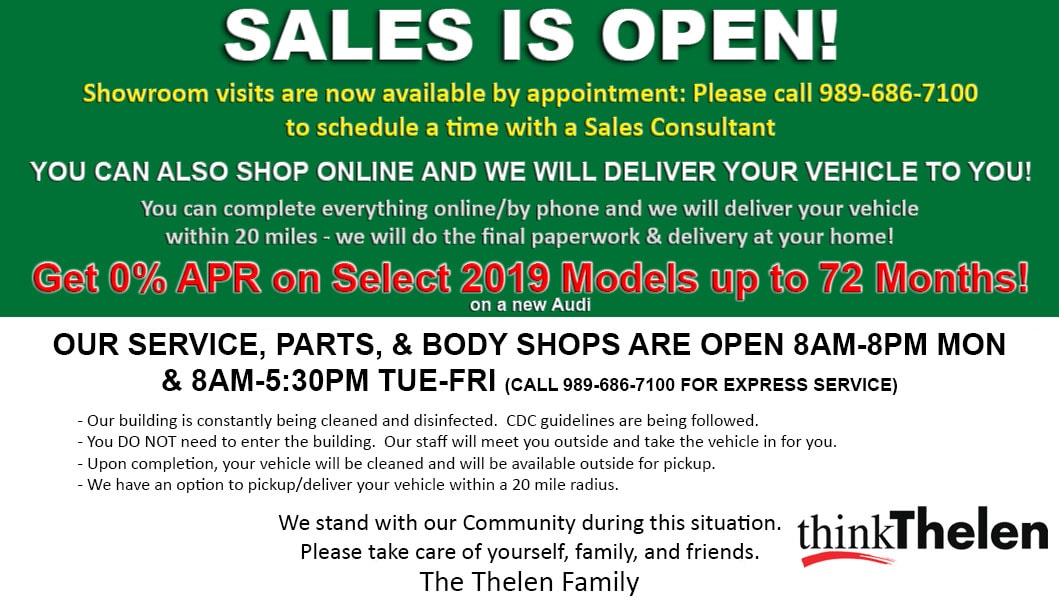 First and foremost, we want you to know that we value the health and safety of our customers and staff. As a business, Thelen Audi Bay City is taking the extra steps necessary to maintain a healthy and sanitary workplace while still meeting our customers' needs.
We continue to monitor information from state health authorities and the CDC for their guidance and recommendations on how we can help to prevent the spread of this virus.
Our steps include:
Thorough cleanings of all dealership facilities daily
Sanitizing gel and foam stations available on-site
Providing our staff with specific instructions on hand washing and the importance of staying home if they are not feeling well
Adhering to the recommended six feet of social distance from other staff and customers
Our website is a helpful resource for shopping and researching vehicles, finding service and parts information, and communicating directly with the dealership. We will also continue to offer vehicle pick-up and delivery services.
No matter the department you're looking to reach, we have staff available to answer your questions and assist with your needs. You can connect with a member of our team by phone, email or through our website.
Together, we can maintain a healthy environment and combat the spread of COVID-19.
On behalf of our dealership, thank you for being a loyal customer. Please don't hesitate to reach out as we remain dedicated to serving you for all of your automotive needs through this challenging time.
Thelen's Service Plan for Our Service Customers:
We will pick up & drop off your vehicle within a 20-mile radius of the dealership for most of your service needs.
We currently have service appointments available - Call our service department at 888-565-8359 
Our service crew will sanitize your vehicles interior upon pick-up and upon returning your vehicle. Additionally, numerous sanitizers are readily available for both visitors and employees, throughout our sales and service departments
As updates and reports concerning COVID-19 grow, we are following the guidance of the CDC and taking precautions to make sure customers and associates remain safe and healthy.
We are committed to doing the right thing to ensure our dealerships are clean and safe to continue providing excellent service to you. Through our carefully planned efforts, we can safely manage these unfortunate circumstances we are all dealing with. Thank you for your business and continued support. Our hearts and thoughts are with you and your loved ones as we all deal with this together.